Davisville Village Homes for Sale Toronto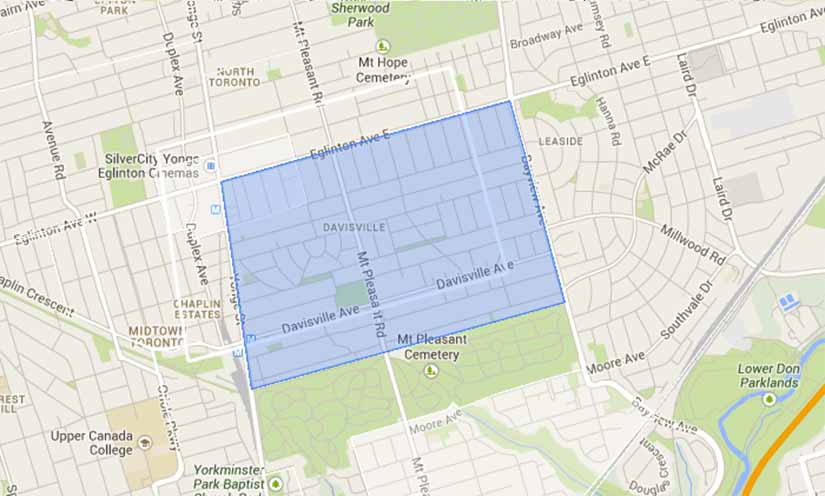 Davisville Village is an attractive area in Midtown Toronto between St Clair and Eglinton at the intersection of Davisville Avenue and Yonge Street, conveniently with a subway station named Davisville at this intersection. The area directly abuts Mount Pleasant Cemetery, and has many apartment and condominium complexes built between the 1970s and the 2000s, as well as a number of office buildings.
Davisville Village has a good combination of high rise rental properties, condominiums and detached homes. Many of the detached homes were built in the 1920's and 1930's. West of Mount Pleasant Road, houses are mostly large two and three-story English Cottage and Edwardian-style homes. In this area there are also a number of duplexes and walk-up apartment buildings. You will see smaller detached houses, semi-detached houses and bungalows to the area east of Mount Pleasant Road. Like many of Toronto's neighborhoods, the real estate market in Davisville has undergone incredible growth over the past several years, the average The average price of a detached home is now $1,365,749.
With over 18 years of experience providing clients in the GTA with personalized real estate service, Ed Abdou has established an outstanding reputation as an invaluable member of the Harvey Kalles team. His strong attention to detail and focus on customized service delivery ensure that each client's unique needs are not only met but consistently surpassed, no matter how big or small the undertaking. It is not by chance that Ed has developed such a strong referral network, and that his clients routinely come back to him for any of their real estate needs.
Check out our exclusive Real Estate, Homes for Sale in Davisville , Toronto here: https://www.edabdou.com/davisville-village-homes-for-sale/