Davisville Village Real Estate Toronto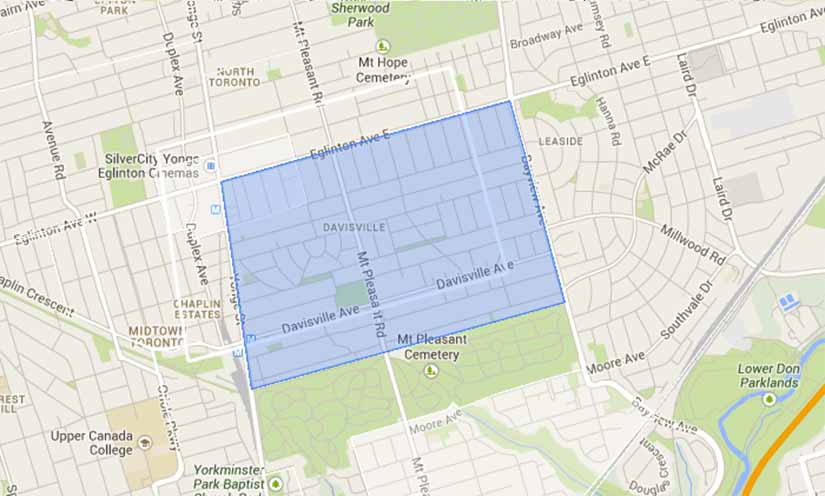 Davisville Village is an attractive area in Midtown Toronto between St Clair and Eglinton at the intersection of Davisville Avenue and Yonge Street, conveniently with a subway station named Davisville at this intersection. The area directly abuts Mount Pleasant Cemetery, and has many apartment and condominium complexes built between the 1970s and the 2000s, as well as a number of office buildings.
Davisville Village has a good combination of high rise rental properties, condominiums and detached homes. Many of the detached homes were built in the 1920's and 1930's. West of Mount Pleasant Road, houses are mostly large two and three-story English Cottage and Edwardian-style homes. In this area there are also a number of duplexes and walk-up apartment buildings. You will see smaller detached houses, semi-detached houses and bungalows to the area east of Mount Pleasant Road. Like many of Toronto's neighborhoods, the real estate market in Davisville has undergone incredible growth over the past several years, the average The average price of a detached home is now $1,365,749.
(Source: Wikipedia )
History of Davisville Village Toronto
Davisville Village is named after John Davis. John Davis immigrated to Canada from Staffordshire, England in 1840 and served as Davisville's first postmaster. He also helped found the Davisville Public School and operated the Davis Pottery, the Village's largest employer. The former Davisville Post Office was run by John Davis grandson Jack. This two-storey building is still standing on the north-east corner of Yonge Street and Davisville Avenue. (Source: Your Guide to Toronto Neighbourhoods ).
Also referred to as Mount Pleasant West & Mount Pleasant East, Davisville Village area has a combined population of 46,433.
Mount Pleasant West
The Mount Pleasant West population is 55% Female and 45% Male.  The vast majority of the population here are working age, with 17,100 being between the ages 25-54.
( Source: City of Toronto )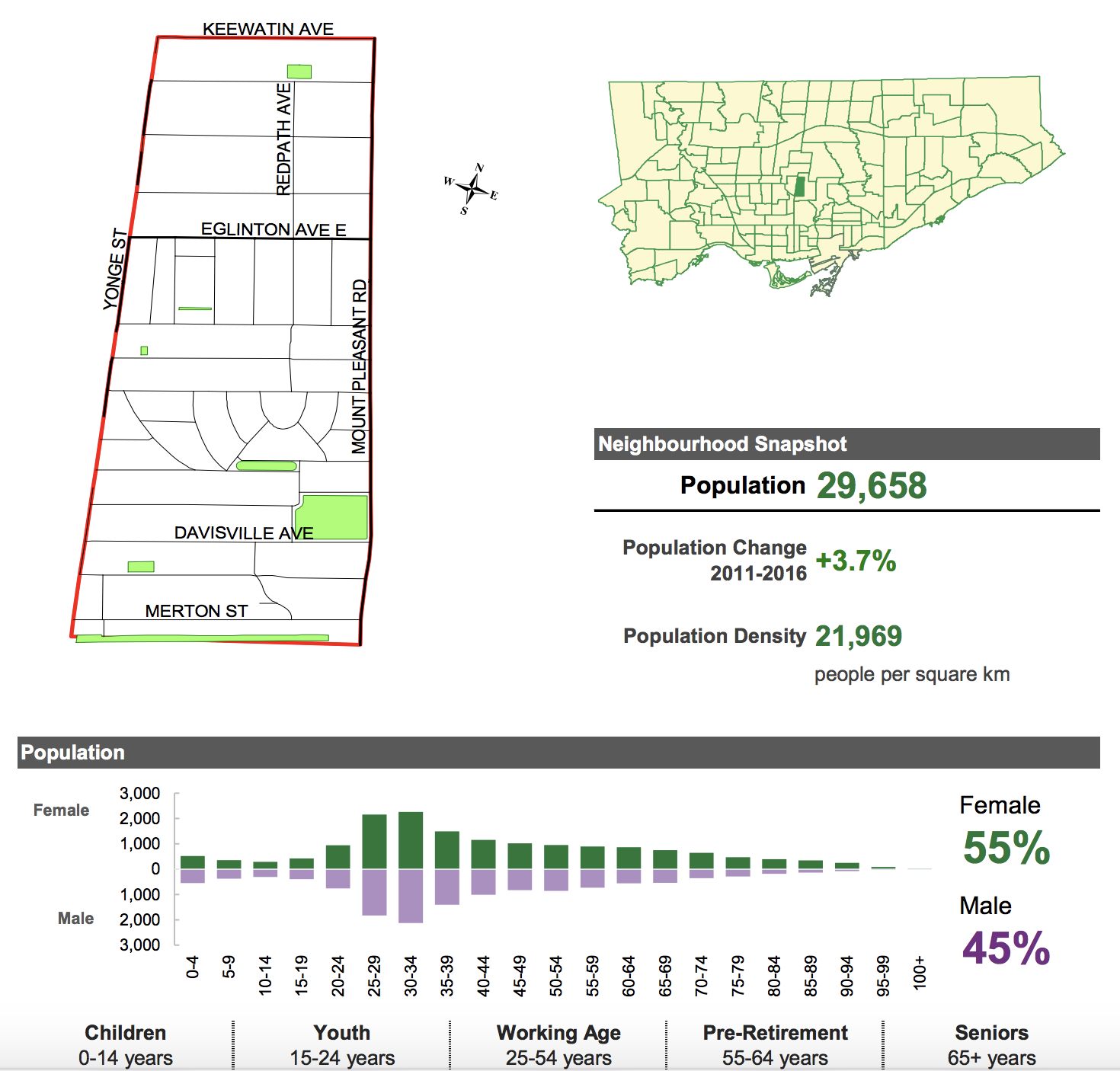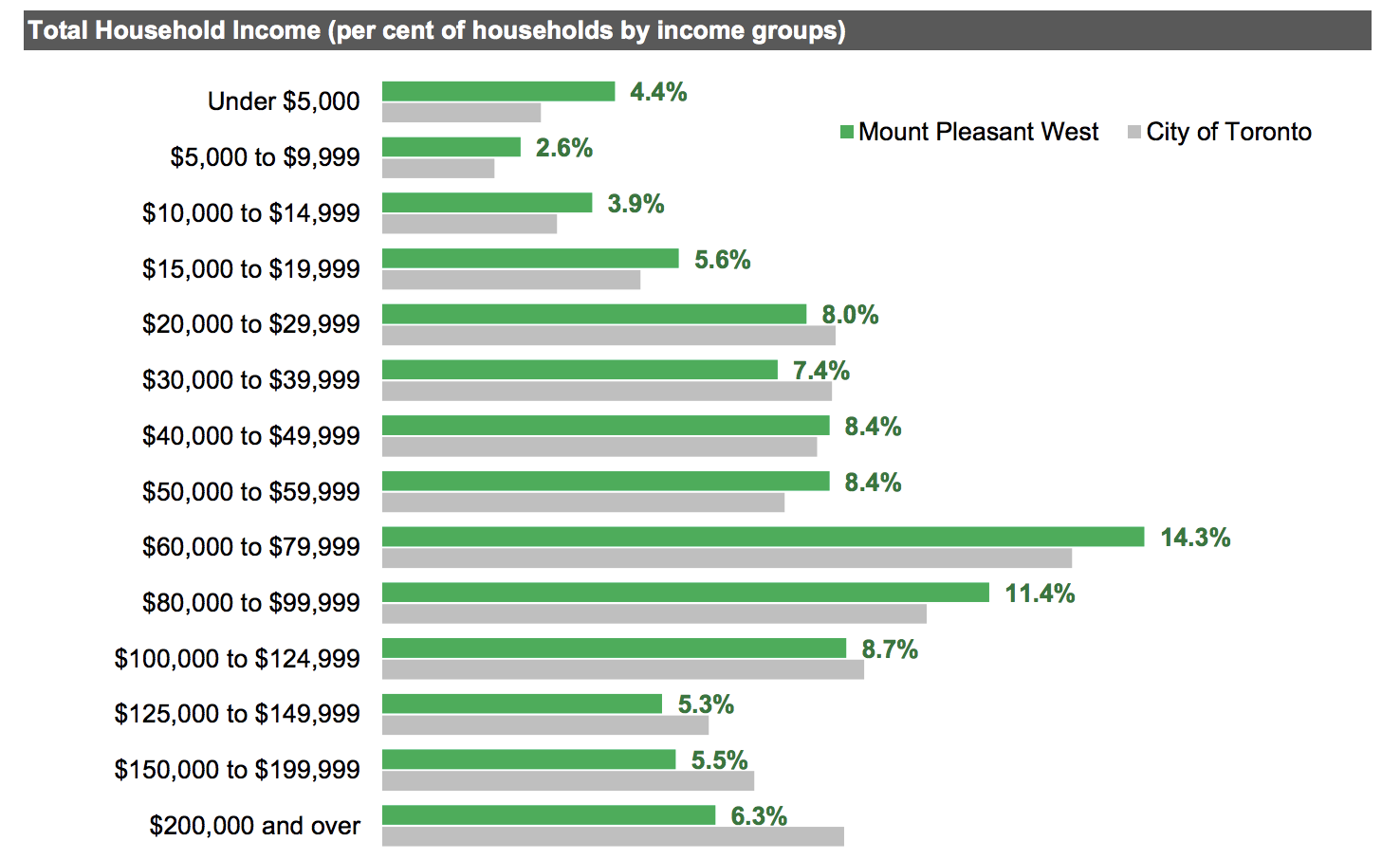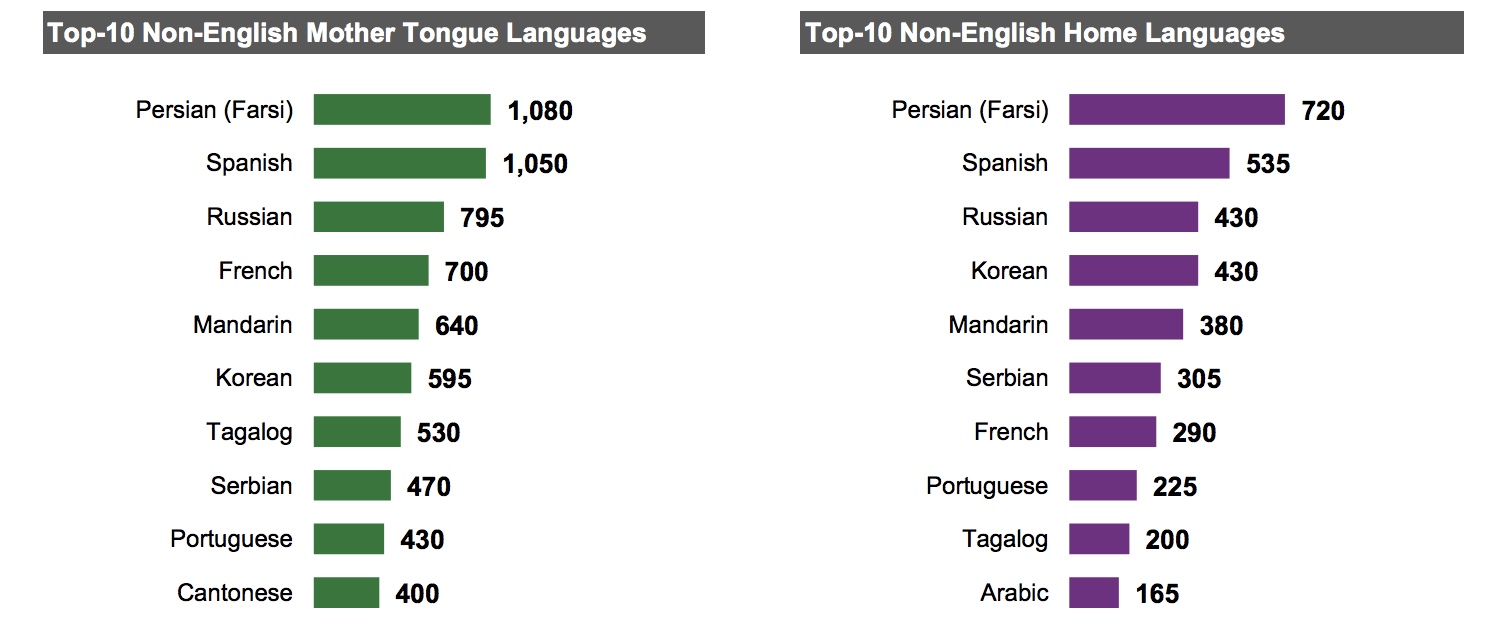 Mount Pleasant East
Mount Pleasant East is comparable to The Beaches in income and demographics.  The area is bordered to the east by Bayview Ave, Moore Ave to the South, Yonge street to the West and Blythwood to the North. (Source: Wikipedia )
Demographics: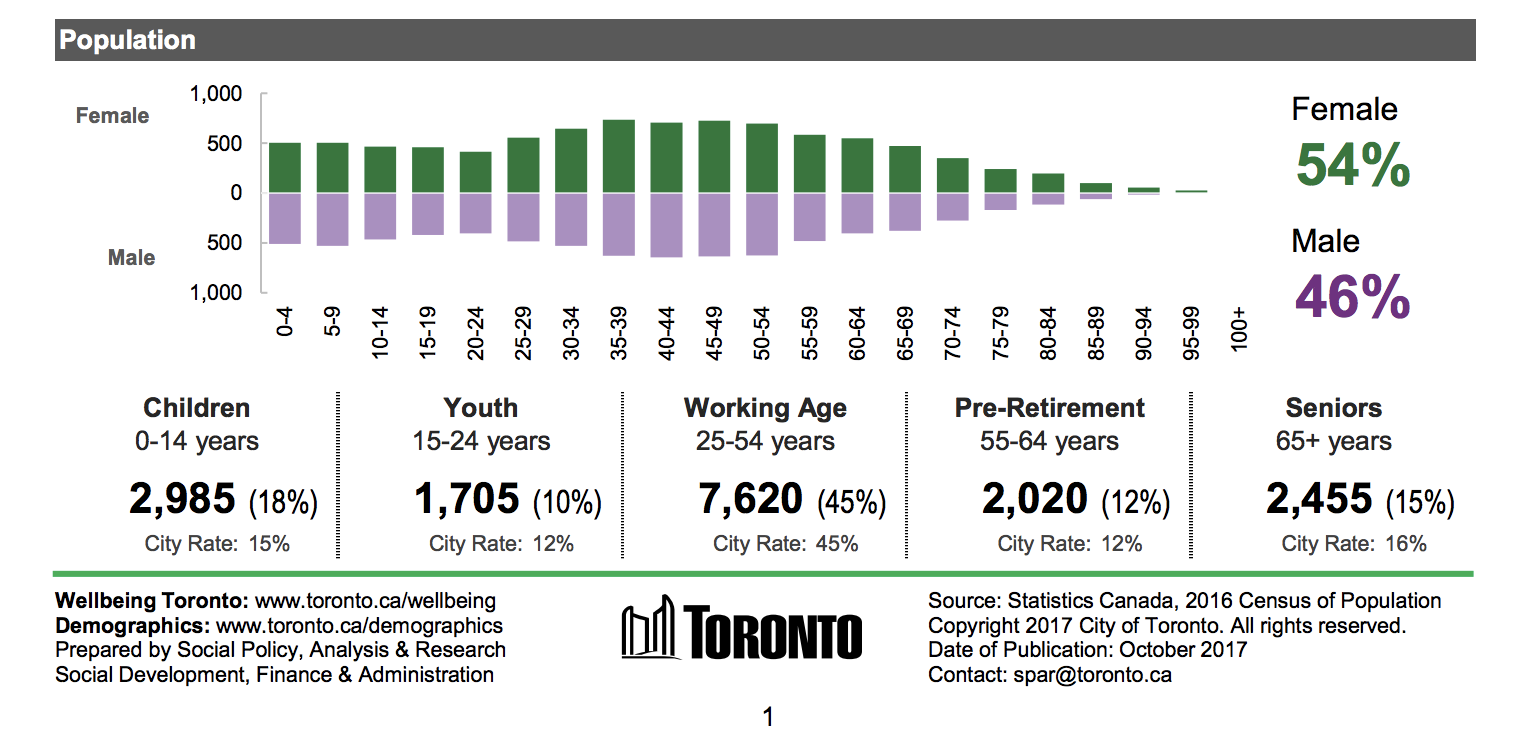 Although the highest percentage of Mount Pleasant East population is still within working age, the majority of residents in this neighbourhood earn over $60,000, with 23.4% earning over $200,000.  ( Source: City of Toronto )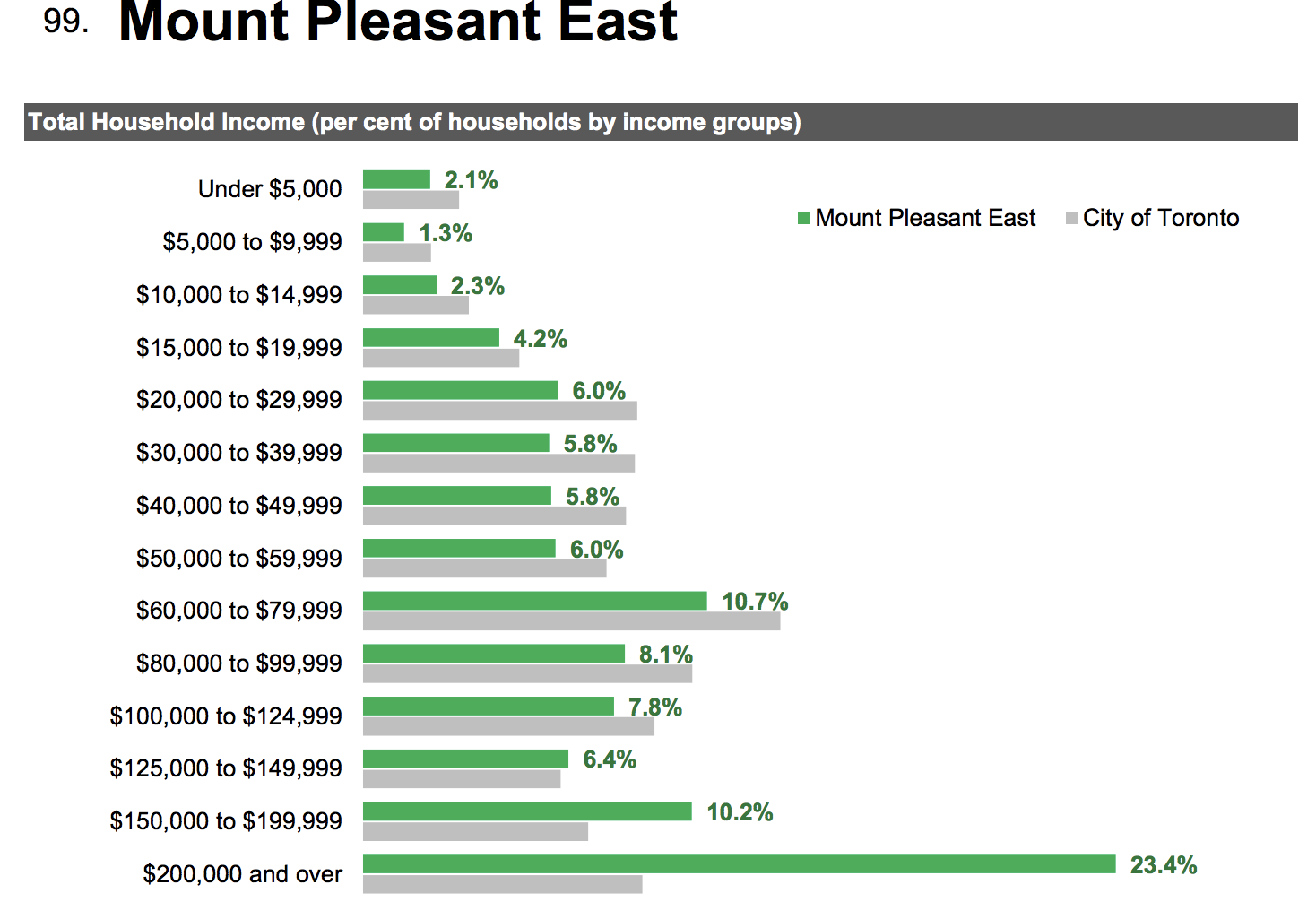 French, Spanish and Cantonese win out as top languages spoken in this community.
Schools in Davisville Village Toronto