Lawrence Park Homes for Sale Toronto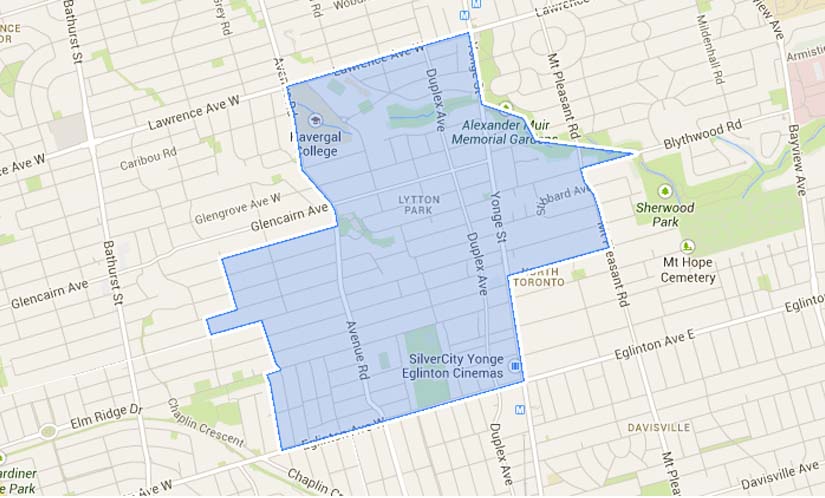 Lawrence Park, bordered by Yonge Street to the west and Bayview Avenue to the east, and from Blythwood Ravine on the south to Lawrence Avenue on the north has been ranked one of the wealthiest neighbourhood in all of Canada. In 2011, Canadian Business magazine named it the wealthiest postal code in Canada by household net worth, averaged at $3.88 million.  Most of the homes in Lawrence Park were built between 1910 and the late 1940s and include a variety of architectural styles including English Cottage, Tudor Revival, Georgian and Colonial style designs. (Source: Wikipedia )
Interesting facts & History:
Notable residents in Lawrence park:
Paul Beeston, former president of Major League Baseball and also former president of the Toronto Blue Jays
Roberta Bondar, first Canadian female astronaut
Isadore Sharp, Founder and Chairman of Four Seasons Hotels and Resorts
Steve Stavro, late owner of the Toronto Maple Leafs
John A. Tory, late Canadian lawyer and corporate executive, former president of The Woodbridge Company
John Tory, Canadian businessman, former leader of the Progressive Conservative Party of Ontario, current mayor of Toronto
Karen Stintz, Toronto former City Councillor, representing Ward 16. Previous Chair of the Toronto Transit Commission. (Source: Wikipedia )
Lawrence Park was first advertised as an 'aristocratic neighbourhood', 'four hundred feet above Lake Ontario', and 'Far from the Lake Winds in Winter'.  In 1907 The Dovercourt Land Company purchased the north parcel of Lawrence Park from John Lawrence, after whom this neighbourhood is named.  It was designed as a neighbourhood for the 'well to do'.
However, even with all the fanfare, Lawrence Park's development was sporadic. Development of this neighbourhood was interrupted by two world wars, a recession, and a depression. Finally, by the 1950's that this neighbourhood was completely developed. (Source: Your Guide to Toronto Neighbourhoods )
Demographics:
The City of Toronto breaks down the demographics of Lawrence Park into Lawrence Park North & South. The combined population is 29,786. The average income when you combine North and South is 39.35% making $200,000 and above.  And the diversity in language with French, Cantonese and Mandarin leading the way.  (Source: City of Toronto )
Lawrence Park North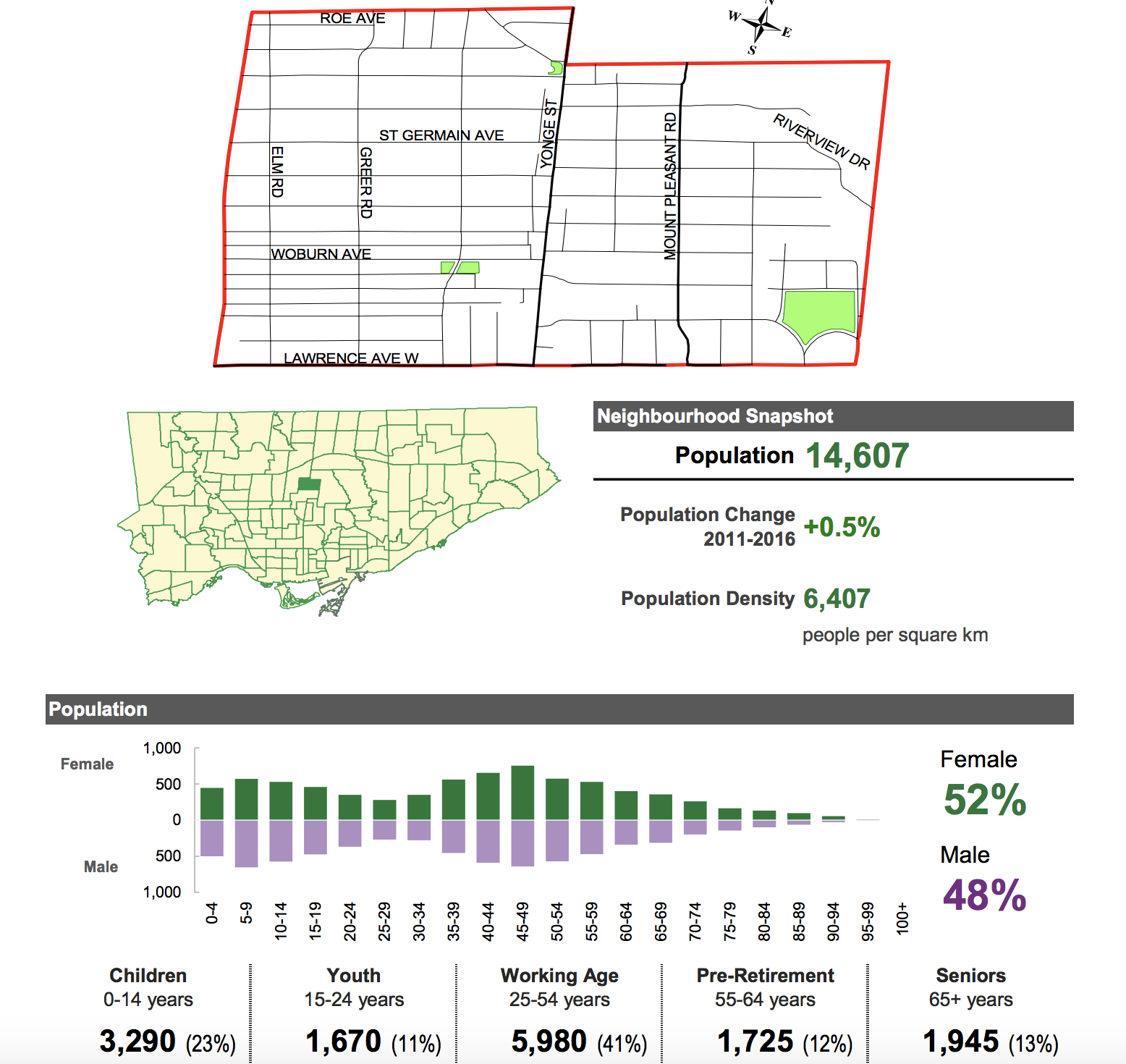 Lawrence Park South
Schools in Lawrence Park Toronto
Lawrence Park Collegiate Institute located in Lytton Park
Blythwood Jr. – 2 Strathgowan Crescent (public)
Sunny View Jr. & Sr. – 450 Blythwood Road (public)
Bedford Park Public School – 81 Ranleigh Avenue (public)
The Toronto French School – 296 Lawrence Avenue E (private)
The Crescent School – 2365 Bayview Ave. (private)
Crestwood School – 411 Lawrence Ave. E (private)
Loretto Abbey Catholic Secondary School – 101 Mason Blvd. (Catholic separate HS for girls)
Blessed Sacrament – 24 Bedford Park Ave. (separate)
Glendon College of York University – 2275 Bayview Ave. (University)
SOLA – School Of Liberal Arts (private)